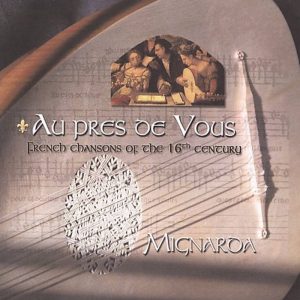 We're happy to announce the release of our 6th CD, Au Pres de Vous. Recorded in the warm and vibrant acoustic of an old country church, our latest release explores the important marriage of music, poetry and dance tunes of sixteenth century France. The composers of these chansons and psalm settings – including Sermisy, Janequin, Crecquillon, Lassus, and our favorite, Philip Van Wilder – were inspired by the eloquent grace and the passionate artifice of poets Marot and Ronsard, among others.
Notable among the several previously unrecorded chansons are three completely unique settings of 'Pour un plaisir', a forgotten 16th century hit. Lute solos include dances and preludes from the publications of Attaignant and Phalese, and ricercars and fantasias from Marco dal l'Aquila and 'il divino' Francesco da Milano.
Au pres de vous can be purchased now directly from us at http://www.mignarda.com/cds . Single-song and full-album MP3 downloads will be available soon at Amazon.com, CD Baby, iTunes, or your favorite download site.